The Embers Acting Group
The Embers Acting Group, Manchester is open to adults who wish to improve on or learn the skills required in the acting profession. The Manchester based classes are heavily rooted in the Meisner technique and the Stanislavski system. The approach relies heavily on the student learning to trust in oneself as a fundamental necessity for an actor to progress.
Course Content
The initial 6 week acting course will cover the fundamentals of acting. Classes will follow a route through improvisation, script analysis, approaching text, preparation and performance. Students of The Embers Acting Group will also be given the opportunity to attend Workshops and Masterclasses from visiting industry professionals from directors to working actors.
The next Master Class to be bought to the Embers will be available to students booking onto the currently available block.
Master Classes
Coronation Street Star Chris Gascoyne meets and works with The Embers Students..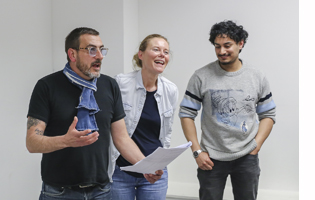 The Embers Group were very pleased to welcome actor Chris Gascoyne who came along to meet with the students and to give his invaluable insight into the life of a professional working actor.
Chris has appeared in Coronation Street, New Street Law, My Last Five Girlfriends, Soldier Soldier, The Locksmith. Theatre : Frankie And Johnny At The Clair De Lune (Bolton Octagon); The Rib Cage (Manchester Royal Exchange); Bluebird (Royal Court Theatre) and The Changing Room (London Duke of York); The Rise and Fall of Little Voice (West Yorkshire Playhouse/Birmingham Rep) and Endgame (Glasgow Citizens Theatre/Home Manchester).
To name but a few of his credits.
Our last Master Class was delivered by Acclaimed British Director Lawrence Gough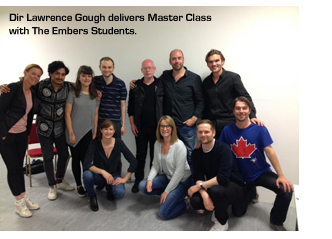 Students will have the opportunity to meet the director through a Q and A session and to receive one on one direction from Lawrence himself.
Lawrence's TV and Film work include:
Doctor Who, Atlantis, Misfits, Endeavour, The Aliens and Snatch to name but a few.
Lawrence has directed some of the countries most respected actors including :
Pierce Brosnan, Juliet Stevenson, Rupert Grint, Matt Lucas, Michaela Coel, Dougray Scott, Richard Wilson, Sarah Parish, Simon Callow, Peter Capaldi, Mark Addy, David Bautista and Mark Warren.
Commitment and focus will be expected from all students. However it is hoped that the experience will mainly be one of fun.
"Acting can be fun. Don't let it get around". - Sanford Meisner